A quick and easy homemade chicken and
orzo soup
that is nice, light and satisfying and just packed with the brightness of summer with the fresh lemon, parsley and a hint of tarragon!
With the colder weather I have been thinking about soups more and I thought that I would start out with this nice and hearty, light and bright lemon chicken
orzo soup
. This soup is essentially a take on a chicken noodle soup using orzo as the 'noodle' and it emphasizes brightness by the use of lemon juice and zest along with plenty of fresh parsley. In addition, I like to add a touch of thyme for some earthiness and a bit of tarragon which perfectly complements the bright flavours of the soup and adds a hint of the exotic with its anise-y and vanilla-y undertones! This soup is pure comfort food that is absolutely amazing on a cold winter day, it's hot, filling and it adds a bit of summery sunshine to your day! What's even better is that it takes less than 30 minutes to make and it will fit into your New Year's diet resolutions!
I like to start this soup off with a full chicken to make my own chicken broth and then use the poached chickens meat in the soup itself but it's also great, and so much quicker and easier to make, with pre-made chicken broth and pre-cooked chicken! Either way you make it, be ready for a blissful experience of light and healthy comfort in a bowl!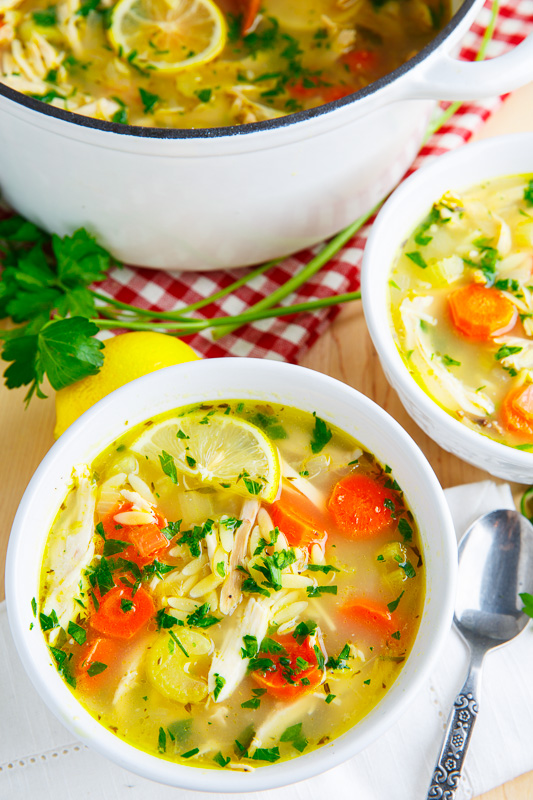 ingredients
1 tablespoon oil
1 onion, diced
2 carrots, diced
2 stalks celery, diced
2 cloves garlic, chopped
1 teaspoon thyme, chopped
4 cups chicken broth or chicken stock
2 cups cooked chicken, cut into small pieces
1 cup orzo 
salt and pepper to taste
1 lemon (zest and juice)
1 tablespoon tarragon, chopped (optional)
1 handful parsley, chopped
Directions
Heat the oil in a large stock pot over medium-high heat, add the onions, carrot and celery and cook until tender, about 8-10 minutes.
Add the garlic and thyme and cook until fragrant, about a minute.
Add the chicken broth or stock, chicken and orzo, bring to a boil, reduce the heat and simmer until the orzo is just tender, about 5 minutes.
Season with salt and pepper to taste and mix in the, lemon juice, zest, tarragon and parsley.