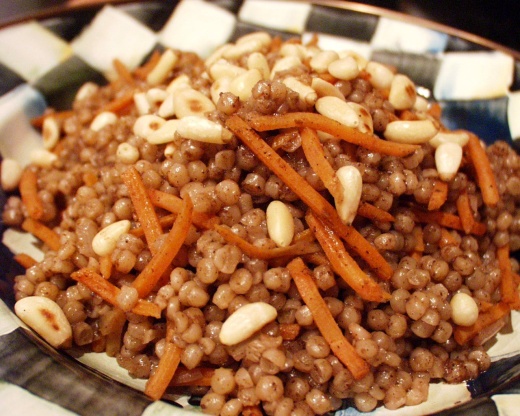 Ingredients
2 tablespoons pine nuts

2 tablespoons olive oil

1 shallot, peeled and minced

1 carrot, peeled and coarsely shredded

2 tablespoons lemon juice1 tablespoon garam masala

1 1⁄4 cups chicken broth

1 cup M'hammes ( israeli couscous )
Directions
Heat a medium skillet over med-high heat and add pine nuts. Swirl in pan until they begin to brown. BE CAREFUL NOT TO BURN.

Set aside to cool.

In a heavy saucepan, heat oil over medium heat and saute shallot and carrot for 1 minute. Stir in lemon juice and garam masala.

Add broth to pan and bring to a boil. Stir in couscous. Reduce heat and cover pan. Simmer 8-10 minutes.

Remove from heat and let stand 5 minutes. Fluff with fork.

Put in serving bowl and sprinkle with toasted pine nuts.