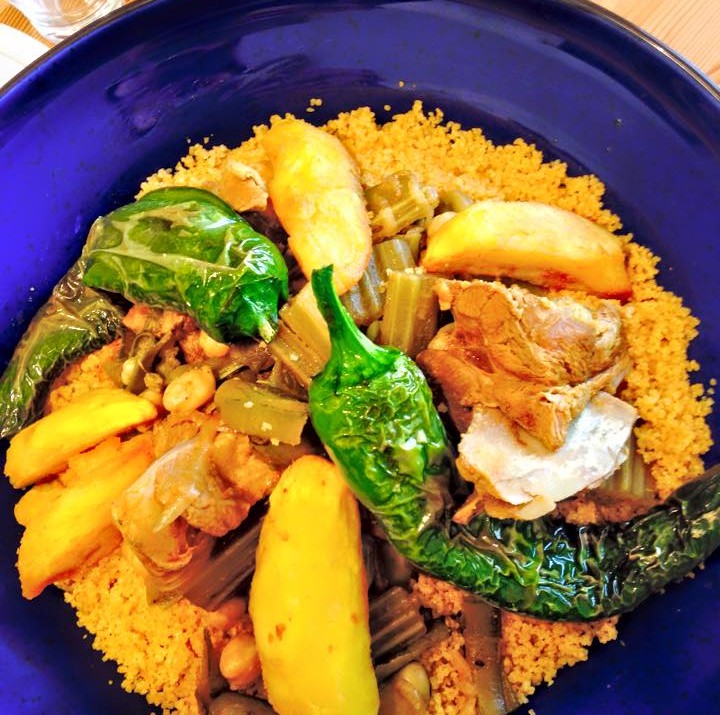 INGREDIENTS
½ cup of couscous 

 ½ liter water

  a small teaspoon of salt
For the red sauce
700g chopped lambs meat

 one large onion diced into small pieces

 3-4 carrots, quartered (200g)

 200g kale, roughly chopped

 2-3 zucchini, quartered (200g)

 2-4 green peppers, whole

 two potatoes, peeled and sliced in half

150g soaked chickpeas 

 1½ cups of extra virgin olive oil 

 1 teaspoon of harissa (or more if you are feeling adventurous)

 2 tablespoons of concentrated tomato paste 

 ½ teaspoon salt and black pepper for seasoning 
Method:
To prepare the sauce, fry the meat with the onion in the olive oil in the lower part of the keskes for a few minutes. After the meat is browned, add the chickpeas, salt and black pepper, tomato paste, harissa, the kale, the carrots and the peppers. Add 500mls of water, bring to the boil and simmer for 10 minutes. Add the remaining vegetables and continue to cook.

Once the sauce is preparing, put the couscous in the upper pot of the steamer and place over the sauce. Leave for 20 minutes to allow the couscous to absorb the steam. The couscous should be sprinkled with water and fluffed up (by hand if it is not too hot) every few minutes, to remove any clumps. Return the couscous to steam for a further 5 minutes.

Once the couscous and the vegetables are cooked, put the couscous in a large bowl and blend it with a tablespoon of olive oil or butter. Mix the sauce with the couscous to get a nice red combination. Season and serve in a large communal bowl.